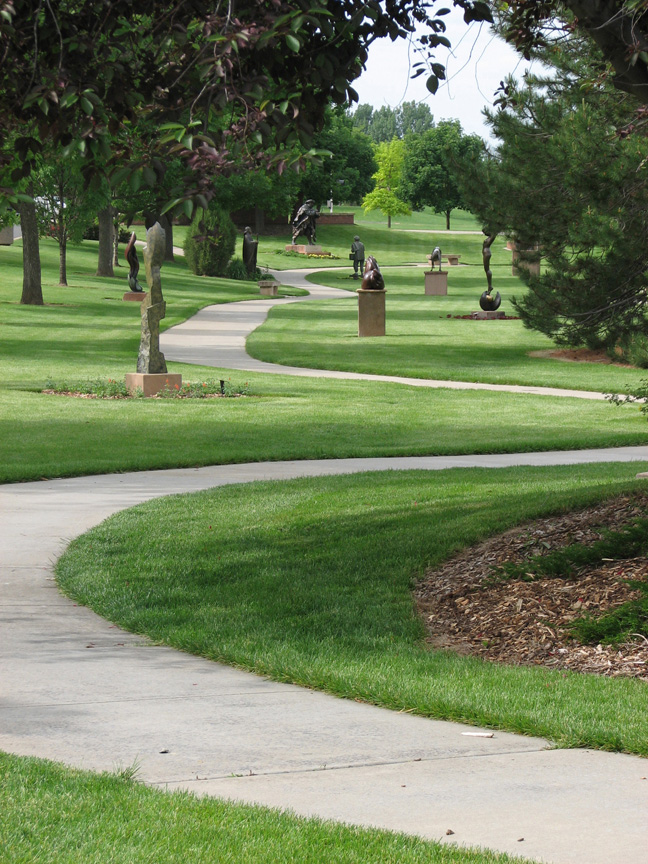 Located at 2908 Aspen Drive in Loveland, Colorado, Benson Sculpture Garden has provided a beautiful and unique outdoor setting for showcasing sculpture since 1985. It is here that the Loveland High Plains Arts Council hosts its renowned Sculpture in the Park event each sumer. Currently, there are 154 pieces of sculpture on permanent display by world renowned artists. This 10-acre park includes handicap accessible sidewalks, a public restroom and several picnic areas.
In 2015 Benson Sculpture Garden was expanded across 29th Street with the installation of three new pieces. Additional sculpture will be added to this section of Benson Sculpture Garden in 2016 and beyond.
In 2017, thanks to a very successful Sculpture in the Park 2016 show and sale, the Loveland High Plains Arts Council was able to purchase 4 new pieces for permanent placement in Benson Sculpture Garden. These new pieces were installed in June.
This "public treasure" annually draws tens of thousands of visitors from around the globe. It has been recognized as "one of the 200 most important modern and contemporary art sites around the world" and as "one of the 20 must-see contemporary art sites across the USA". We could not be more proud!
The garden is open all year except for a small section that is closed during setup and takedown for the Sculpture in the Park show and sale. There is no admission fee to visit Benson Sculpture Garden except during the weekend of the show (the second weekend in August). The park may be viewed at any time of the day. A limited number of tours are available to groups of ten people or more. If you are interested in scheduling a tour, please call the LHPAC office at (970) 663-2940 or email us at This email address is being protected from spambots. You need JavaScript enabled to view it..
Benson Sculpture Park pavilion reservations can be made through the City of Loveland Parks and Recreation Administrative Office located at 500 East Third Street, Suite 200 during regular business hours of Monday-Friday, 8:00 a.m. - 4:30 p.m.
You may also choose to reserve this facility ONLINE at: https://webspeed.ci.loveland.co.us/scripts/webtrac.wsc/wbsearch.html?xxmod=fr&wbsi=f27f1b82-2f50-37a0-e511-87d9e780ebc7&xxtype=SHLTR.
For more information about reserving the pavilion you may call the City of Loveland at (970) 962-2727.
For more information about the Benson Sculpture Garden, click the links below.
Visit the links below to view the sculpture that LHPAC has available for sale throughout the year. To purchase a piece, please call the LHPAC office at (970) 663-2940 or email us at This email address is being protected from spambots. You need JavaScript enabled to view it.